FOR IMMEDIATE RELEASE
April 19, 2018
By Amanda Emmerich, Marketing Coordinator amandae@stevensind.com, 217-857-7145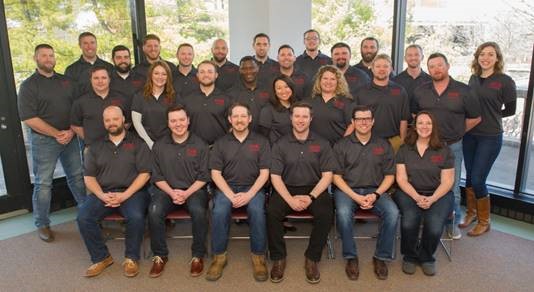 Stevens Industries, Inc. congratulates Kerry Brown and Landon Williams on their graduation from the Construction Leadership Institute (CLI) at Southern Illinois University of Edwardsville.  Brown and Williams manage projects in Stevens' casework services department and recently completed the nine-week executive education program.  CLI teaches practical skill enhancements to those in the architecture, engineering and construction fields.
Brown shared, "I learned a lot about myself and how I work by not only understanding my strengths and weaknesses but understanding how others work as well.  I enjoyed meeting classmates from various construction companies and backgrounds and forming relationships with them throughout the course.  Our discussions during class and while collaborating on group projects allowed us to learn different areas of the business and learn from each other.  The class provided a lot of useful information and insight on how to improve our skills in public speaking and many different areas of project management.  My group won second place for our presentation on designing and building a new, fictitious, recreation center in St. Louis.  We had the opportunity to present and sell our ideas to a panel of judges.  We didn't win the job, but we were close!  This project was both challenging and rewarding."
Williams appreciated the opportunity to meet contemporaries in the industry.  "I enjoyed connecting with everyone in the group, hearing their ideas and stories of past projects.  We were all able to develop great working relationships with each other, which will certainly be a great asset for us all in future projects. The material presented to us each week was top notch. SIUE threw in all kinds of informative topics and had experts present this material in a very effective manner. Personally, I enjoyed learning most about the latest technology being implemented in the construction industry. Furthermore, CLI had a tremendous presentation on how to overcome internal communication barriers. I thank SIUE for allowing me to be part of this great program," he said.  
Class themes included strategic thinking, leadership styles, communication and presentation skills, risk, insurance and bonding, construction financial management, project proposal preparation and lean building principles.  The course finished with a collaborative project which featured formal, written proposals and presentations to the class and prospective customers.